Rhubarb Crumb Bars
By Martha Stewart Test Kitchen
Updated on January 16, 2019
Prep Time:
25 mins
Total Time:
1 hrs 25 mins
Ingredients
For the Streusel
6 tablespoons unsalted butter, melted, plus room-temperature butter for pan
1 cup all-purpose flour (spooned and leveled), plus more for pan
½ cup packed light-brown sugar
¼ teaspoon salt
For the Cake
½ pound rhubarb, cut into ½-inch pieces
1 tablespoon light-brown sugar
1 cup all-purpose flour (spooned and leveled)
½ teaspoon baking powder
¼ teaspoon salt
½ cup (1 stick) unsalted butter, room temperature
1 cup confectioners' sugar
2 large eggs
½ teaspoon pure vanilla extract
Directions
Preheat oven to 350 degrees. Butter an 8-inch square baking pan. Line with parchment paper, leaving a 2-inch overhang on two sides. Butter and flour parchment and pan, tapping out excess flour.
Make streusel: Whisk together butter, brown sugar, and salt. Add flour and mix with a fork until large crumbs form. Refrigerate until ready to use.
Make cake: In a medium bowl, combine rhubarb, brown sugar, and 1/4 cup flour. In another medium bowl, whisk 3/4 cup flour, baking powder, and salt. In a large bowl, using an electric mixer, beat butter and confectioners' sugar until light and fluffy; beat in eggs, one at a time. With mixer on low, beat in vanilla, then flour mixture. Spread batter in prepared pan. Sprinkle with rhubarb and top with streusel.
Bake cake until golden and a toothpick inserted in center comes out with moist crumbs attached, 45 to 50 minutes. Let cool completely in pan. Using paper overhang, lift cake from pan. Cut into 16 bars.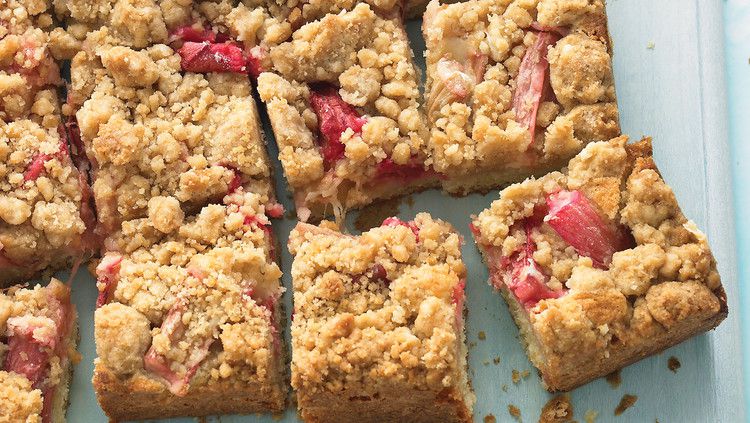 Ingredient Checklist
2 bunches Broccolini, trimmed
Coarse salt and ground pepper
2 teaspoons toasted sesame oil
1 tablespoon toasted sesame seeds
Directions
Instructions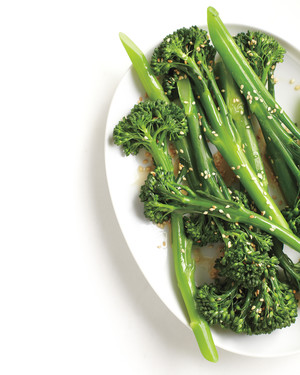 Set a steamer basket in a large saucepan filled with 2 inches simmering water; add Broccolini. Cover and steam until crisp-tender, about 6 minutes. Transfer to a platter. Season with salt and pepper, drizzle with sesame oil, and sprinkle with sesame seeds.