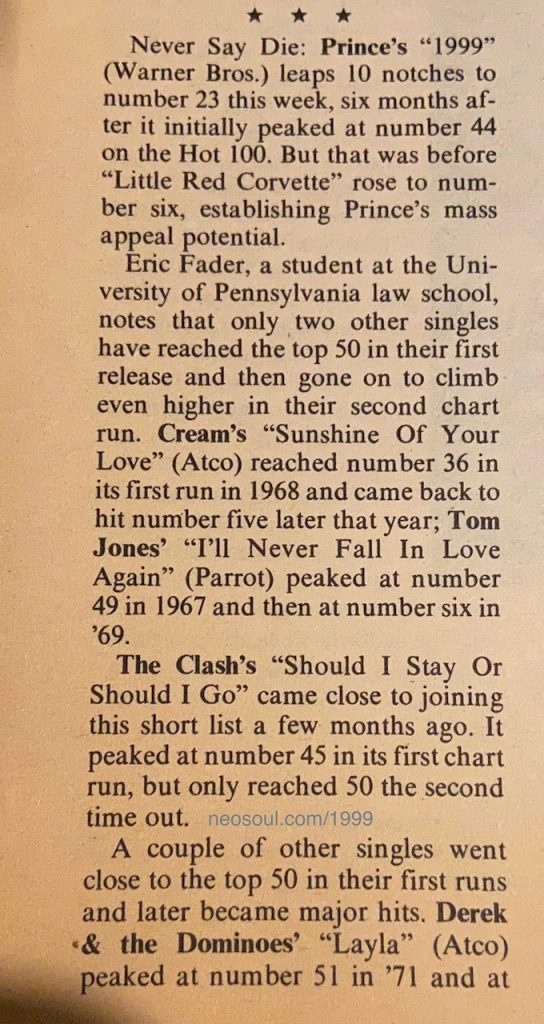 From the July 2, 1983 issue of Billboard Magazine:
Never Say Die: Prince's "1999" (Warner Bros.) leaps 10 notches to number 23 this week, six months after it initially peaked at number 44 on the Hot 100. But that was before "Little Red Corvette" rose to number six, establishing Prince's mass appeal potential.
Eric Fader, a student at the University of Pennsylvania law school, notes that only two other singles have reached the top 50 in their first release and then gone on to climb even higher in their second chart run. Cream's "Sunshine Of YourLove" (Atco) reached number 36 in its first run in 1968 and came back to hit number five later that year; Tom Jones "I'Il Never Fall In Love Again" (Parrot) peaked at number 49 in 1967 and then at number six in '69.
The Clash's "*Should I Stay Or Should I Go" came close to joining this short list a few months ago. It peaked at number 45 in its first chart run, but only reached 50 the second time out.