the finger November 18, 2020
I'm back. Whether you like it or not.
I was busy making phone calls for Joe Biden. That kind of worked out. And helping voters with voting issues on Nov 6 and many days before then. One caller asked me how she votes online.But now I need to make calls to Georgia. Otherwise, Biden might not get much done to help us.Even if the Democratic candidates win in Georgie, Biden needs Kamala to break the tie.and I will probably do more for We The Action to help with registration and voting questions before the January elections.
I was also busy celebrating thee birthdays in the Family. Jim and I have 55 years.and Now there's a teenager in our house. Help!!!
Maria was attending school twice a week, theoretically. There were a couple of in-school days canceled here and there.Now that has come to an end. A temporary end I hope. That might depend on the teachers union and Cuomo.
I am still biking to work to avoid the subway. The few times I get on the subway remind me why I should avoid it.Every car has at least one MAN not wearing a mask. And if you have watched the news, you know that mentioning wearing a mask can get you beat up. Yes, there are some women who don't wear masks. But overwhelming it is a man, especially on the subway.
I finished watching the Borat movie, which had an unexpectedly good story and an interesting ending (I don't want to give away any surprises). I did laugh a lot but some of the parts that were supposed to be funny were also scary. It showed the negative Trump side of America, which the election showed is unfortunately large enough to keep him from conceding. They also kept too many Republicans in Congress. The Republicans have mastered the use of misinformation and labeling their opponents. The Democrats have to get better at using fear and branding themselves in a way that prevents Republicans from labeling them in negative terms. I wish Love and Unity was a consistent winning message. But I also want them to try tax the rich and simultaneously fight off the socialist label (or make socialism great again).
I hope you have a safe Thanksgiving.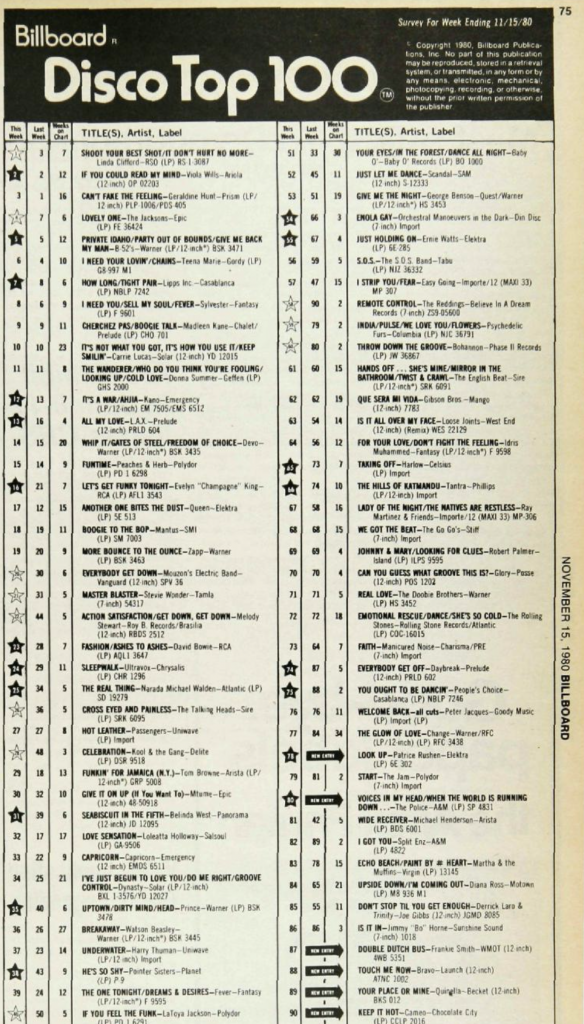 I've been tweeting about the Billboard charts of Fall 1980. They are extremely interesting to me because of reaction to Prince's third album and the invasion of the Disco 100 by new wave artists. I have a playlist of some pre-MTV videos from those artists on youtube: 1980youtube.com
Here are my recommended reads this week:My friend Ingrid posted this on twitter: https://twitter.com/IngridFournier/status/1327625034773499906?s=20I sent the awfullibrarybooks link to a friend who responded:
Perfect timing! Just got back from Va and need a bedtime story. I feel like you just gave me a wonderful present- the awful book, the website, the guilt-tripping mother love… all so awful that they're wonderful.
But Ingrid's reflection on Bedtime Stories was so nice I read it to Maria before she fell asleep. Maybe I will read her one of the stories from the awful Uncle Arthur's Bedtime Stories.
It's been a while since I received a Sheekey Daily Read, but here's a good joke from the last one I received (nov 6):
"Some Dust Bowl results have blown in. The Oklahoma Senate race has been called for G.O.P. incumbent and global warming denier Jim Inhoff. Inhoff was heavily favored to win so he wasn't sweating the outcome. He was sweating because for some reason every year it's warmer than the previous one."
— Stephen Colbert