I slept on and off but overall pretty well until 5AM when Brad's alarm clock went off. Don was in the shower again so I waited in line. I let Catherine use the toilet before I took my shower with some bug. Of course it was cold but it was a shower hose.
I went back to my room and used the sink to prepare for the day. I wore a wrinkled shirt, black pants, white socks, and my Reeboks. I forgot my toothpaste and had to wait for Brad to get up before I brushed my teeth.
After waiting a few moments, we had a breakfast of juice, coffee, and toast and loaded into the transport to the airport. We all made it on this time. We left late and had to get off the plane in Martinique.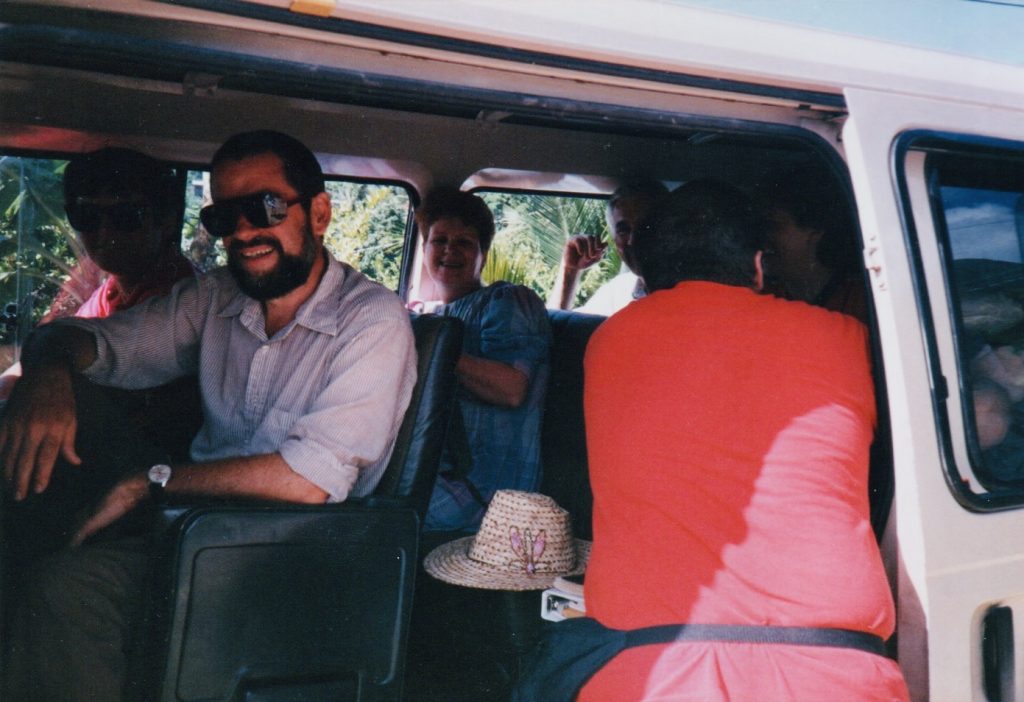 While we were waiting for another plane, I bought water and a danish. It cost me about $3 US. I also paid for Don's beer ($2 US) because he only had coins with which he paid me. We got back on the flight and took a 15 minute trip to St. Lucia where Felix was waiting.
We received our spending money and rode to the school where the training was. The others were on a scavenger hunt and we went off for refreshments.
After 12 we headed back to the school, listened to the results of the scavenger hunt for various cites in St. Lucia. We signed up for interviews and received T/D shots.
Following these activities we went for a walk and ate at "Flintstones." I had chicken, bread, and lime juice. I had soursop ice cream for dessert which tasted just like Brad's Passion Fruit ice cream which tasted just like vanilla.
The training session resumed with skits. Ours was the shortest and least telling of the trainees' adventures in their countries. We also had an explanation for the creole training.
After training Dave Matheny and I were picked up by our Homestays for St. Lucia. They are a retired couple who lived in England many years. We got the chance to watch the Bush announcement of his Supreme Court nominee and had tuna for dinner.
July 23